Building Bridges: My TOP 5 Autism/First Responder Community Events
Apr 24, 2022
Far too often, the first introductions between autistic individuals and first responders come during a crisis. It doesn't have to be this way.
Autistic individuals are seven times more likely to have a police encounter than their neurotypical peers. According to the Children's Hospital of Pennsylvania, "Approximately 1 in 5 adolescents with ASD will be stopped and questioned by a police officer before the age of 21. Individuals with disabilities, including ASD, are five times more likely to be incarcerated, and civilian injuries and fatalities during police interactions are disproportionately common among this population."
Autism Awareness Training is CRITICAL, obviously. I have devoted my post-law enforcement career to delivering this training from my unique perspective as a cop, a K9 Officer, a police leader, and a proud Autism Dad. You can learn more about my First Responder Training program here: www.bluebridgetraining.com
But, here's the thing: Autism Awareness Training alone isn't enough.
True understanding, respect, and empathy can only come from exposure and relationship-building. We have to get more individual cops and first responders in rooms with our loved ones on the autism spectrum and allow them to learn from each other. The most effective way for agencies and families to get this done is through fun, engaging, and creative Community Events.
Here are my TOP 5 Autism/First Responder Community Event Ideas
(and my favorite agencies making them happen)
Autism Open House

One of the simplest, most cost-effective, and easiest-to-organize events an agency can host is a simple Open House. Pick a day, invite the Special Needs families of your community to your police department, fire, or EMS building and invite them to look around. Yep, it's really that simple. Some quick tips:

Keep it low-key. Respect the sensory sensitivities of many individuals with Special Needs by reducing noise (portable radios, sirens, alarms, echoes) and intense lighting. Holding facilities are notoriously loud due to their typical concrete walls and floors.

Assign some of your officers as Tour Guides.
I was honored to participate in the inaugural Special Needs Open House hosted by the Hazlet Police Department (New Jersey). They knocked it out of the park and the community is still talking about it.
Autism Touch-A-Truck

We have some really cool toys. Make them safe, line them up in front of your agency or at a local park, open the doors, and invite your families to explore. Some quick tips:

Disable sirens and air horns to respect the noise sensitivity of some individuals.

Consider a cooperative event with Police, Fire, and EMS emergency apparatus.

Invite local construction companies to bring dump trucks, diggers, and other equipment.
Check out this event organized by the Autism Society of Alabama, Hoover Police Department, and Hoover Fire Department:
https://hooversun.com/news/kids-invited-to-touch-a-truck-event-in-the-preserve/
Autism Prom or Gala:

Everybody loves a party. Put your Chief in the DJ booth and unleash your Chicken Dance. The kids will love it and your community will never forget it. Some quick tips:

Invite your officers as chaperones.

Offer a complete schedule of activities (music, food, etc.), so parents can plan and prepare their kids for the event.
Nobody does it better than the Tim Tebow Foundation. If you aren't following Tim and his team on social media, you're depriving your soul of nourishment.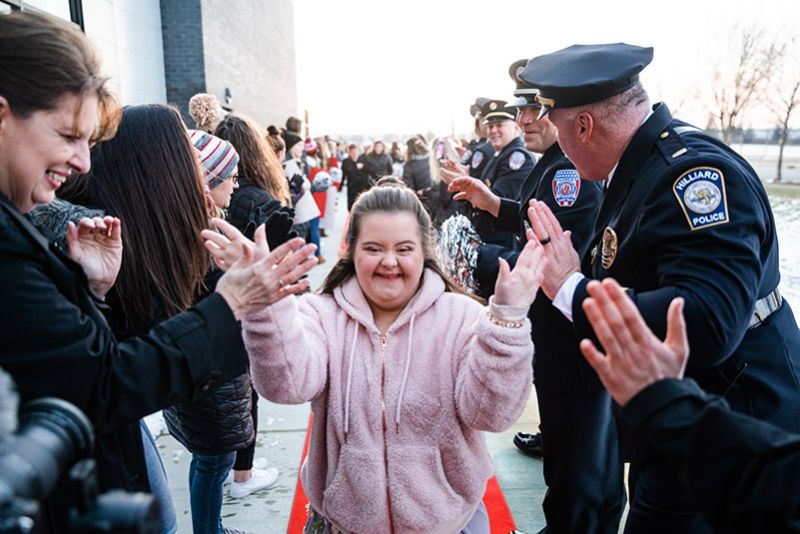 Tim Tebow Foundation Night to Shine
Autism Bowling Party:

Who doesn't like bowling?

Form teams with your officers to promote communication, cooperation, and community spirit.

Keep your officers in uniform to maximize and reinforce the visual message of "police officer = good guy."
Check out the Special Needs Holiday Bowling Party hosted by the Howell Police Department (New Jersey).
Howell PBA Brings Holiday Cheer to Local Kids
Autism Traffic Stop Training:

Don't overlook the adults and older teens! Thousands of autistic individuals attain driver's licenses. For many, however, the prospect of being stopped by the police causes severe anxiety. Anxiety often hampers communication, and misunderstanding can result if the officer isn't alert and insightful as he conducts his stop.

Set up some space in the parking lot of your agency or local park and set up mock traffic stops. Walk the drivers through the entire process (presenting their credentials, answering typical questions, safety protocols). Through exposure to the process, reduce anxiety as much as possible. These events are a win for everyone. They build trust, improve understanding, increase officer safety, and provide training (to the community and your officers).

My friends at Pathfinders For Autism are doing amazing things with these events: People With Disabilities Practice Traffic Stops With Frederick Deputies, Nonprofit
General Tips:
Invite local Speech Therapists, Occupational Therapists, and service providers to set up booths or tables.

Offer specifically designated quiet offices or areas for families to retreat and recharge if they get overstimulated.

If your department offers a Special Needs Registry or database, this is the ideal time to solicit participation.
Interested in Collaborating With Your Local First Responders to Plan an Event?
For parents and caregivers, reaching out to local authorities can be intimidating, confusing, and time-consuming. Check out my Bridge Builders Workshop for a step-by-step guide for researching who to call, what to say, and how to establish these critical relationships.
Don't miss an article!
Coaching, inspiration, tips, and guidance delivered to your inbox!
We hate SPAM. We will never sell your information, for any reason.